Welcome to the Oregon Mushrooms Wholesale page!
Since 1999, Oregon Mushrooms has been selling
truffles, mushrooms
, and much more to gourmet food lovers across the country. We started on eBay, expanding to an online store to meet the demands of our customers who wanted a wide range of delectable mushrooms to choose from. Over the years, our range of products has expanded to include
truffle oil
, flavored honey, artisan salts, spices, spreads, and other specialty items. We take pride in offering mouth-watering mushrooms and gourmet delights that customers love.
Not only does Oregon Mushrooms do a brisk business in retail with the best
mushrooms Oregon
has to offer, we also make wholesale quantities of our
gourmet mushrooms
available. From fresh to dried, whole to powder, and from morels and matsutakes to
truffles
and black trumpets, Oregon Mushrooms has ample quantities of these
mushrooms for sale
. Retail Packs are now available, see bottom of this page for images.
We also carry a line of Artisan Sea Salt, Saffron, Truffle Balsamic Vinegar, Balsamic Creams, Truffle Oils, Truffle Paste, and much more.
We sell to restaurants, produce companies and grocery stores and other companies across the United States. We have competitive prices and excellent quality. We ship straight to your door. In some instances we can ship on the airlines to you as well.
WHOLESALE CONTACT- SCOTT COSSAIRT -
541-850-6194


Call or email us for prices and availability. Wholesale minimum order is 12# of fresh or frozen produce. 6# minimum for dried mushrooms. We now accept credit cards via Intuit Payment Network, it is easy to pay this way, we email you an invoice and you just enter your information. It is fast and secure. We no longer accept credit cards over the phone for wholesale orders for security reasons. Through Intuit you can pay from your checking, savings or credit card. We never see your information.

All product dates are estimated
Fresh Black Winter Truffles (Perigords) December through January
Fresh Burgundy Truffles September through December
Fresh Summer Black Truffles May through August
Fresh Oregon Black Truffles – December through January-we have frozen Oregon Black Truffles
Fresh Oregon White Truffles – December through January-we have frozen Oregon White Truffles
Fresh Cauliflower Mushrooms- August through November
Fresh Fried Chicken Mushrooms- October through Early December
Fresh Honey Mushrooms -November|
Fresh Lion's Mane Mushrooms- September through October- we have dried lion's mane
Fresh Chicken of the Woods- Late August through Mid November
Fresh Huckleberries- Late July-October
Fresh Elderberries- Early July- October
Fresh Ramps (wild Leeks)-Late March-May
Fresh Fiddleheads-Mid March
Fresh Miners Lettuce- March through May
Fresh Sea Beans-June through October
Fresh Spring Onions-March through April
Fresh Wasabi Root- All year
Fresh Wild Asparagus- April through Early June
Fresh Stinging Nettles- March through April
All of our fresh mushrooms are not organic, the Wild are not certified, but are wildcrafted. If you need to know where the mushrooms are from, please ask. PLEASE ask us before ordering if you need a COA and/or a spec sheet. We do not have those for a lot of our products.
We have Frozen Products: Frozen Huckleberries, Frozen Oregon Black and White Truffles, Frozen Alba Truffles, Frozen European Porcini, Frozen Domestic Porcini, Frozen Ramp Bulbs, Frozen Mexican Truffles, Chanterelles, Morels, Elderberries and more. We wholesale everything on the website, plus we have some specialty items that we sell wholesale.
Please email us at
[email protected]
or fax us at 1-541-850-2512 with the following required information, or call Scott Cossairt at 541-850-6194. Email is preferred since it gives us the ability to know what you are interested in to start with and then a follow up call after we email you your price list.
Contact Name:
Business Name:.
Email Address:
Phone number:
We will contact you with our wholesale prices within 48 hours, usually within 24 hours.
Thank you for your interest in our products.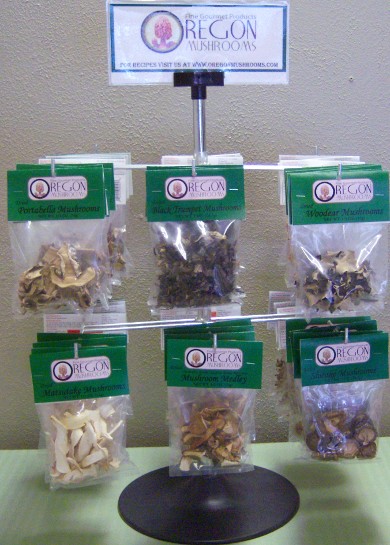 Now carrying our mushrooms in retail packs, 1/2 ounce bags that are pictured below, contact us for prices. We have 1 oz retail packs pictured above. After you have emailed us or called us, we will send pricing to you first. The retail packs are wonderful for stores, for wineries, specialty food establishments. They sell really excellent. Our top sellers are: morels, porcini, chanterelles and shiitake. The case size is 10. For your first order, you can mix it up to see what sells best for you.